Mung Beans with Coconut
Legumes, known collectively as dhal, are—along with rice—the staff of life in south India, providing protein in a vegetarian diet. This recipe uses mung dhal, which has a distinctively sweet, earthy flavor and, when hulled and split, a golden color. You can pick up these yellow mung beans (split and peeled) at any indian or asian grocery also Whole Foods and other health food stores usually have them. Curry leaves are important here; find them fresh at any Indian store.
Raw Mung
1 cup hulled, split mung dhal (green gram beans)
3⁄4 cup finely grated fresh coconut or finely shredded dried unsweetened coconut
1 fresh hot green chile (serrano or thai), stemmed and split lengthwise
1⁄2 tsp. cumin seeds
1⁄4 tsp. turmeric
12 curry leaves
1 tsp. salt
1 tbsp. coconut oil
1⁄2 tsp. brown mustard seeds
1 whole dried hot red chili
1. Put mung dhal in a large skillet, and toast over medium-high heat, stirring constantly, until it turns golden and gives off a toasted aroma, 5–10 minutes. Transfer dhal to a strainer, and wash under cold running water to rinse off any excess dirt or dust, about 1 minute.
2. Put toasted dhal and 2 1⁄2 cups water in a medium saucepan, then bring to a boil over high heat. Reduce heat to low, cover, and simmer until soft and most of the dhal has broken down to a thick, lumpy consistency, 25–35 minutes.
3. Meanwhile, grind coconut, green chiles, cumin seeds, turmeric, 6 of the curry leaves, and just enough water (about 1⁄3 cup) in the jar of an electric blender to make a moist, thick paste. Add coconut mixture and salt to cooked dhal in pan, and mix well, adding a few tbsp. of water if needed, until mixture has the texture of thick split-pea soup. Increase heat to medium, and cook until just heated through, about 3 minutes, then remove from heat.
4. Melt coconut oil in a small skillet over medium-high heat, add mustard seeds, and cook until they begin to pop; then carefully add red chile and remaining 6 curry leaves (the leaves will produce an explosive spatter when they hit the hot oil). After curry leaves sputter for a few seconds, add mixture to dhal, and mix well. Add salt to taste. SERVES 4–6
Cooked Mung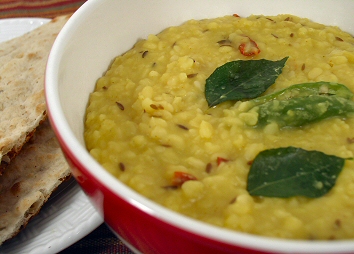 [caption id="attachment_477" align="alignleft" width="270" caption="dahl with curry leaves"][/caption]
Goat Curry!
This recipe employs a technique called bhoona, in which the meat, spices, and wet ingredients are stewed together until the mixture reduces and the main ingredient browns.
9 cloves garlic, chopped
3 lbs. bone-in goat shoulder, trimmed and cut into 4" pieces
4 cups buttermilk or takra
2 tbsp. amchoor (sour mango powder)
1 tbsp. cardamom pods
1 tbsp. ground coriander
1 tbsp. whole black peppercorns
2 tsp. cumin seeds
2 tsp. kashmiri red chili powder or paprika
1 tsp. whole clove
3 cups canola oil
1 3" piece peeled ginger, julienned
Salt
6 shallots, thinly sliced
Purée garlic and 1⁄3 cup water in a blender. Put garlic paste, goat, buttermilk, amchoor, cardamom, coriander, peppercorns, cumin, chili powder, cloves, 2⁄3 cup oil, ginger, and salt to taste into a pot; stir. Bring to a boil; reduce heat to medium. Boil gently, stirring and scraping up browned bits from bottom of pot, until meat is tender, about 2 hours.
2. Heat remaining oil in a pot over medium heat until oil registers 325° on a deep-fry thermometer. Add shallots and cook, stirring constantly, until brown, 3–5 minutes. Using a slotted spoon, transfer shallots to a paper towel–lined plate. When cool, pulse shallots to a coarse paste in a spice grinder. Add shallots and 2 cups water to pot and cook, stirring, until goat is tender and beginning to brown and sauce is thickened, about 45 minutes more. Season with salt. Serve with basmati rice, if you like.
SERVES 4 – 6 (both recipes adapted from my favorite cooking mag: Savour)